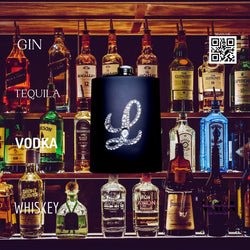 Vanessa's Wine Accessories
VWA Monogram Flask (Black)
It's Party Time!!!!!!!!!! BLING MONOGRAM FLASK...WHAT'S YOUR INITIAL? 
This attractive hip bling flask is perfect for storing your favorite beverages (such as vodka, brandy, whiskey, bourbon, gin, tequila, rum or cognac).  Take with you anywhere and  anytime.  #getvwa #flask #winelovers #wine #liquor
PRODUCT HIGHLIGHTS:
8 oz Hip Stainless Flask
Durable, high quality 18/8 Stainless Steel
Flask measures 5" height x 3-3/4" width x 1" depth
Screw Down Cap Attached to the Flask so it Cannot be Lost
The smooth matte finish resists fingerprints and maintains the clean look

HANDWASH WITH WARM WATER ONLY

PLEASE KEEP AWAY FROM CHILDREN FOR SMALL OBJECTS CAN BE HARMFUL WHEN SWALLOWED or 



Our quality control team inspects ALL items before they are shipped to our customers.
We will replace any manufactured damaged or defective items that you receive as long as Vanessa's Wine Accessories or Getvwa.com has the items available. If the goods are NOT currently available, we will issue you a REFUND for the damaged items
We do not issue REFUNDS for improper use or other issues that are not attributable to a manufacturer damage or defectives.
Please note, that all orders must be inspected, and all claims for damages or shortages must be made within 48 hours after the receipt of the shipment.
We require pictures of manufactured damage or defective, so we can show them to our supplier and replace them or issue a refund.
Please send manufactured damage or defective photos along with order number to
info@getvwa.com